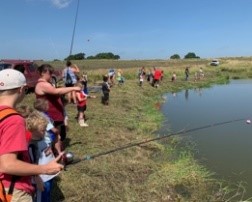 Grade School Fishing Expeditions to reward K-8th grade youth for high achievement and attendance at summer school. Over 225 elementary school students were brought to DuckHorn Lodge to fish. Teachers estimated that over 1/3 of these youngsters had never been outside the city limits of Clinton, MO! Requests to attend summer school next year have already started with the anticipated reward of a DOA fishing and fun expedition. The event was such a success we plan to increase the number of events in 2020 to include other surrounding rural school districts.
Hunting at DOA Lodge or DOA Accessible Properties
Pheasant Hunts for Youth, Veterans, First Responders, Women and Young Adults
Controlled Pheasant Hunts begin with two hours of gun safety training and clay pigeon shooting. For first time hunters, single released pheasants are used to acclimate the hunters to a flying target and trained hunting dogs. Then the first-time hunters are assigned an experienced volunteer to shepherd them during a managed field hunt. For hunters with experience, for example a veteran, supervisors are assigned to watch for any potential safety issues. The participants and volunteers break for lunch. After lunch, the hunters have a continental (European) hunt on the property. This year every lady and youth hunter harvested a pheasant, even those who had never touched a gun before!
Waterfowl Clinics and Hunts
Youth Waterfowl Clinics begin with gun safety, a dog training and retrieval session, followed by a duck call training. Instruction is given on shooting, shotgun patterning and clay-target instruction to each participant. Every youth participant is invited (scheduled) for a fully guided duck hunt with an experienced duck hunter on the DuckHorn Lodge properties.
Waterfowl Hunts for the youth waterfowl attendees, their parent(s) and other constituents always includes a Duckhorn Outdoors member as a guide/consultant. Also, the hunt always includes a refresher on safety. These events may include setting up decoys, calling ducks, help camouflage the blind, etc.
Constituent Based Activities
Boy Scout Outdoor Activities
Boy Scout Overnight Camping and Fishing Weekend events are held at DuckHorn Lodge Lake. The Boy Scouts utilize this lake to bring the troop together and to enhance their ability to obtain badges. These badges may include archery, shooting, camping or nature exploration.
Corporate, Military and Training Activities
Retreats, Commemorative Ceremonies, Outdoor Exhibitions are held within the DuckHorn Lodge and Property. Non-profit organizational retreats, dog training exhibitions, and military ceremonies are examples of the types of events held in conjunction with DOA
Physically and Mentally Disabled Individuals Activities
Physically and Mentally Disabled Individuals can join in any activities with advanced notification. DOA is working with Missouri Disabled Sportsmen (MDS), an MDC collaborative partner, to host and participate in several of their scheduled events such as their "Mobility Impaired" rabbit hunt, continental pheasant hunt, and youth upland hunt. DOA will add to this a mobility impaired duck hunt since they have 2 handicapped accessible blinds. MDC has provided equipment to MDS. DOA has tremendous facilities that are mobility impaired access friendly. This combination will provide additional opportunities, programming and constituents, for all three organizations, MDC, MDS and DOA.